The Triangle Shirtwaist Factory Fire Memorial was recognized by the New York State Bar Association in 2006 with an Award of Merit as a special project of the Injured Workers' Bar Association.
If you would like more information about the Triangle Shirtwaist Factory Fire Memorial, visit the TSFFM Website.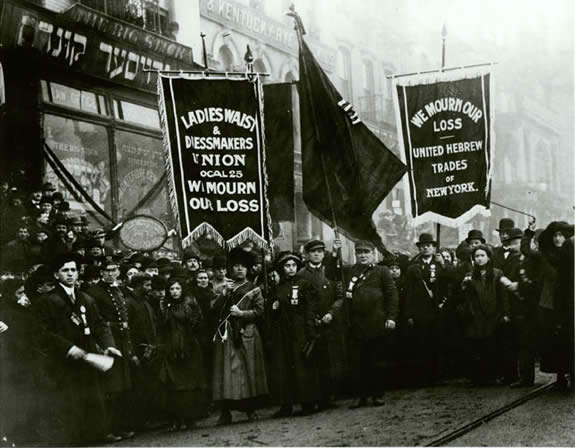 About the TSFFM Scholarship
Since 2003, TSFFM has sponsored Named Scholarships matching each $1,000 contributed with $1,000, enabling a larger class of recipients. These scholarships are made possible by the generosity of donations and through the Annual Memorial Scholarship Fundraiser.  These grants are made in honor of a family, loved one, colleague, or company.   
To be eligible for a TSFFM scholarship you must be nominated by a school official and meet the following criteria:
Is a resident of New York State enrolled in an accredited program in higher education at a New York State public or private institution;

Is in good academic standing;

Demonstrates financial need; and

Is a child/dependent of a parent or guardian who presently receives disability benefit payments pursuant to the New York State Workers' Compensation Law for Permanent Total Disability, Permanent Partial Disability, or Death of a Spouse (The only acceptable proof for this requirement is an official Decision of the New York State Workers' Compensation Board).
TSFFM reserves the right to require additional information to ensure that these conditions and requirements are met.  Scholarships are awarded in TSFFM's sole and absolute discretion.  Payment ismade to the institution "for the benefit" of the Triangle Scholar.